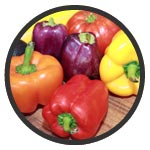 Whether you suffer from diabetes, digestive disorders, inflammatory conditions, thyroid imbalance, PMS, high blood pressure, fatigue, or inability to lose weight; you can restore your health by making the right dietary and lifestyle changes.
With your personal lifestyle assessment, I will look for the root cause of your symptoms by identifying your body system imbalances…it is these imbalances that may be hindering your health and wellness. My recommendations will include a program designed to meet your individual health needs. Together we will discover the healing power of foods that are right for you, addressing your primary health concerns. My goal is to help you understand what your body is saying to you and to teach you to nourish it with what it needs.
How would you like to let go of the past and move to a more vibrant, healthy life today? I will show you the way to your optimal physical, mental, and emotional health…naturally.
A Comprehensive Nutritional Assessment is included in the following packages:
• HEALTH Package
• HEALTH•STRENGTH Package
• HEALTH•STRENGTH•FITNESS Package