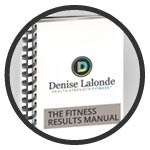 If you've already read and mastered the Free Fitness Tool Kit and you're ready to take your fitness to the next level…get ready! The Fitness Results manual is for YOU! It's what you need to become the healthiest, strongest, fittest you can be.
This manual was created and designed as a highly effective guide to training and nutrition, using a step-by-step approach to achieve fitness success! This guide to fitness addresses the very foundation of success; it will help you to commit to taking action, gain the momentum to get results, and develop the staying power to maintain the results you've achieved.
The Fitness Results Manual will teach you how to apply your inspiration and motivation in a way that honors you as a whole person (goals, schedules, life commitments, physical and mental strengths or weakness, etc). This is your six week program to realistic, sustainable lifestyle changes…for LIFE!
Alternatively, The Fitness Results Manual is available as part of the following packages:
• HEALTH•STRENGTH•FITNESS Package
• HEALTH•STRENGTH•FITNESS PLUS! Package