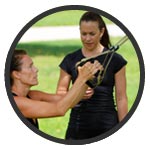 Summerside Bootcamp!
Spring (May and June) Bootcamp – Mondays/Wednesdays/Saturdays
Fall (September and October) Bootcamp – Mondays/Wednesdays/Saturdays
Outdoor sessions are held in Carroll Park (Summerside neighbourhood in London, Ontario)
Suitable for all levels of fitness.
You may choose the full-camp or if you prefer you may choose a class pack to suit your schedule (10 sessions, 15 sessions, or 20 sessions)
EARLY BIRD OFFER: Register early for extra perks!
Registration and full payment is required to secure your spot, space is limited to 25 participants.
Please follow this link to inquire and/or register: http://deniselalonde.com/contact/
Benefits YOU can expect from my 8 to 10 week Bootcamps:
-Increased ENERGY and ENDURANCE
-Increased STRENGTH
-Weight loss
-Change in body composition (increased muscle mass, decreased fat mass)
-Improved CARDIO FITNESS
-Reduced stress
-Improved confidence, mental toughness, and overall well-being!
*** UPDATE: DON'T WAIT TO REGISTER…this is a very popular bootcamp and it always fills up fast!
$250.00 for FULL CAMP (25 sessions)