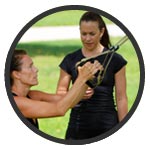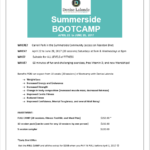 Summerside Spring Into Summer Bootcamp!
April 22, 2017 to June 28,2017.
Outdoor sessions are every Wednesday at 6:00 p.m. and every Saturday at 9:00 a.m.
in Carroll Park (Summerside neighbourhood in London, Ontario)
Suitable for all levels of fitness.
You may choose the full-camp for $250 which includes 20 sessions, my Fitness Tool Kit, and Meal Plan or you may choose my 10-session package for $150.00 to attend any 10 sessions you like.
EARLY BIRD OFFER: Get the FULL CAMP and all the extras for $230 when you pay in full before APRIL 1, 2017.
Registration and full payment is required to secure your spot, space is limited to 25 participants.
Please follow this link to inquire and/or register: http://deniselalonde.com/contact/
Benefits YOU can expect from 10 weeks (20 sessions) of Bootcamp with me:
-Increased ENERGY and ENDURANCE
-Increased STRENGTH
-Weight loss
-Change in body composition (increased muscle mass, decreased fat mass)
-Improved CARDIO FITNESS
-Reduced stress
-Improved confidence, mental toughness, and overall well-being!
*** UPDATE: DON'T WAIT TO REGISTER…it is filling up fast! (8 spots left as of March 28, 2017)
$250.00 for 10 weeks (20 sessions)